Equipping listeners to accelerate climate action by providing accessible information, amplifying diverse voices, and highlighting the intersections of environmental issues.
AmpliFIRE:
Raising Voices Against Rising Temperatures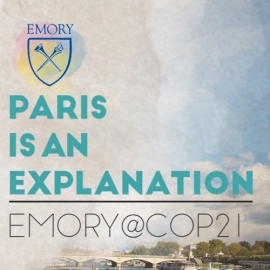 Nine students and two faculty members from Emory University are center stage for the United Nations negotiations on climate change, underway in Paris. The group, the university's first delegation to a climate summit, represents different disciplines: the sciences, humanities, business and the social sciences. Climate change is an interdisciplinary problem that requires a multitude of backgrounds to understand and seek answers. These podcasts reflect the efforts of all 15 students enrolled in the Fall 2015 CoLA Course: Paris is an Explanation, where these problems were explored at Emory University and the greater Atlanta area.