What if governments could mobilize massive sums of money to tackle the climate crisis just as they have done to address the COVID-19 pandemic?

Corporate Accountability, a non-profit that pressures companies on climate change and other issues, posed this question at a June 15 press conference at the recent United Nations Climate Conference. Rachel Rose Jackson, a representative of the organization, told the audience in Bonn, Germany that she dreams of a world where rich countries and corporations pay their fair share to fund climate action in developing countries. 
As an observer at the conference known as SB56, I gained a deeper understanding of international climate negotiation and engaged with many intriguing perspectives at press conferences and side events.
Jackson's remarks, which inspired me to think critically about climate finance for loss and damage, provided eye-opening insights. Climate finance for loss and damage refers to raising capital for investments to fund specifically the cost of existing and future climate change impacts on the planet.
Jackson stressed the urgency for wealthy countries to address climate impacts and increase funding to the Global South, a group of low- and middle-income developing economies facing growing climate challenges.
While roaming the conference hallways, I pondered reforms to existing international climate agreements to redress the legacy of colonialism and chart a more equitable path forward. 
Supported by environmental NGOs and activists, the Group of 77 (G77), a coalition of 134 developing countries, maintains that developed countries must accept financial responsibility for their historic emissions. To do so, developing countries have proposed a new pool of money--known as the Glasgow loss and damage facility--to finance the impacts of climate change in the Global South.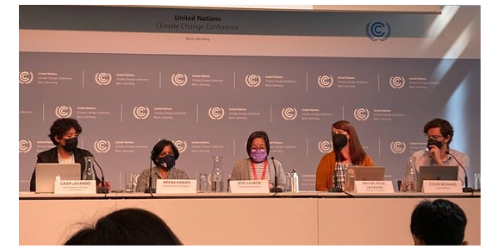 Crucially, advocates say this monetary facility must be on top of existing funding from the UN's Green Climate Fund. At the COP26 climate negotiations in Glasgow last November, countries agreed to advance concerns about loss and damage but failed to establish a new fund to support vulnerable nations.
The Rosa Luxemburg Foundation, a German policy lobbying group, called for more financial support from rich countries. For Tetet Lauron, a foundation representative, loss and damage financing must have its own pool of funding that is separate from resources earmarked for poverty alleviation, humanitarian disasters, and other UN development goals.
I also learned that sufficient climate finance can achieve more than just climate change mitigation: it can advance innovation and unleash human ingenuity around the world. Young leaders from across the Global South made this clear in session after session at the conference. On one panel, two young women leaders from sub-Saharan Africa discussed the launch of an incubator to fund local climate projects in Africa. I spoke with youth leaders from Argentina working to advance plant-based diets in their community and promote food justice. They advocate for a 'Plant Based Treaty' by calling on cities around the world to cut emissions within their food systems. Both of these Global South initiatives will only be successful with access to sufficient funding.
Additionally, finance can help advance a human rights approach within the negotiation process. In one session, I heard Ian Fry, a climate official for the UN High Commissioner for Human Rights, emphasize the huge shortfall in climate financing. Most pledges from developed countries, he said, have yet to be met.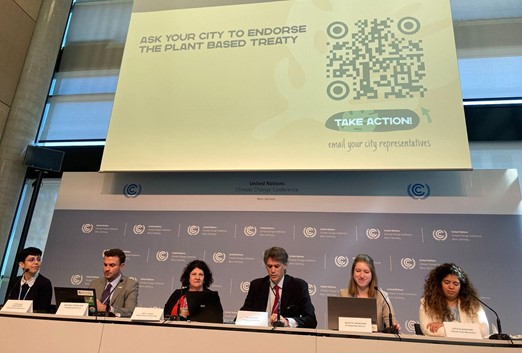 Emmanuel Tachie-Obeng, an environmental official from Ghana, which leads at-risk countries in the Climate Vulnerable Forum, predicted the funding gap will worsen human rights and ecological crises in the Global South. Tachie-Obeng explained that the lack of support will disproportionately hurt indigenous peoples, women and children, underscoring the important link between equitable climate finance and economies that support human rights.
These discussions of human rights and equitable finance were also very personal for me; the conference took place in Germany, a country responsible for the worst crime in the history of humanity. In the years after the Holocaust, Germany agreed to compensate victims as a form of reparations for its crimes. For decades, Holocaust survivors in my family received reparations.
It is disrespectful and ahistorical to directly compare a genocide with climate change; however, we can draw lessons from Germany's approach to reparations to inform current conversations around climate justice and finance. Germany's financial payments to victims will never absolve the responsibility it bears for its Nazi past; yet, these financial reparations are part of a duty to pursue restorative justice.
Similarly, developed countries have a responsibility to fund loss and damage facilities in the Global South as a way of redressing past actions that have contributed the lion's share of historical emissions and led to immense and worsening suffering in the Global South. While finance alone will never be enough to fix historical wrongdoings, it is necessary to advance equity and justice.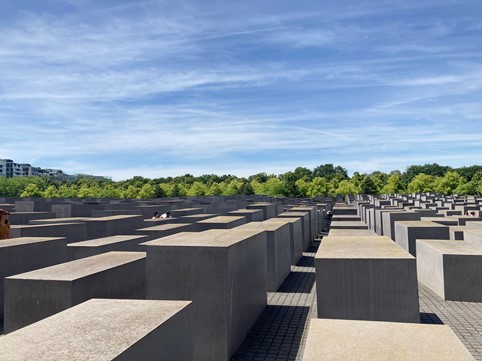 At the conference, I gained profound insight about inadequate climate finance as a barrier to climate action and a source of ongoing global inequity. More climate finance, particularly for loss and damage, is imperative to reduce global inequities, a major UN Sustainable Development Goal, while also promoting climate mitigation and adaptation.
Rachel Rose Jackson, the Corporate Accountability activist, challenged us to use our collective imaginations: it is possible to build a more equitable world. But to do so, wealthy countries must first put their money where their mouths are.
Thank you to Dr. Eri Saikawa and Leah Thomas for making this trip a possibility for our group of recent Emory graduates, especially amidst the uncertainty we faced given the pandemic. Thank you for providing us with the knowledge and guidance to make the most of our experience at SB56 and for being a support system throughout the journey. Thank you to Dr. Lisa Thalheimer for guiding our group at the conference and helping us navigate the world of climate negotiations. Thank you to the anonymous Emory Climate Talks donor for funding this once-in-a-lifetime experience at SB56 and our meaningful experience in Berlin. I am grateful for your generosity and commitment to making this experience accessible for Emory alumni.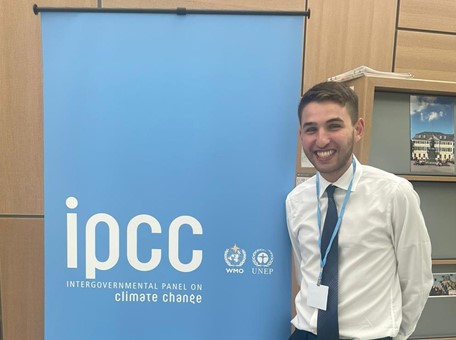 All photos in this blog post are credited to members of the Emory delegation at SB56. Follow Ben's experience at SB56 on Twitter @benlevitt2000