After a seven-month climate action campaign, President Gregory Fenves agreed to a 30-minute meeting with my fellow Emory Climate Coalition (ECC) leaders and me. On October 13, 2021, we presented him with our demands for Emory's stronger climate measures.
The most nerve-wracking meeting of my life went much better than we had dared hope. President Fenves signed two agreements that committed Emory to more transparent and urgent climate efforts. Unprompted, he even pledged to announce his support for climate action in front of the University Senate.
Leaving the meeting, we were elated about the change that we had sparked. However, we quickly faced a reality check. The Emory Office of Sustainability Initiatives (OSI) informed us that our demands exceeded the resources that Emory currently devotes to climate and sustainability. Now, five months after that meeting, we still await the President's speech to the University Senate.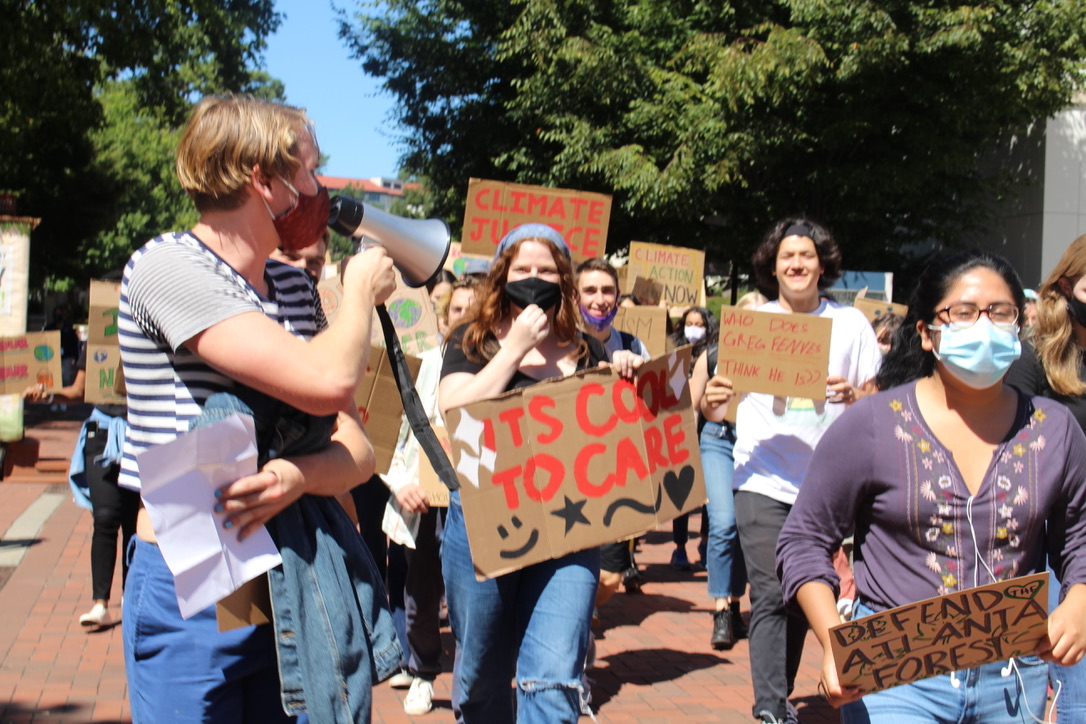 The administration has long highlighted Emory's sustainability initiatives, from the WaterHub to biofuel-powered shuttles. Emory has received national recognition for its efforts, ranking sixth in the Princeton Review's "Top 50 Green Colleges" of 2022. While admirable, these measures are not sufficient to combat the severity of the climate emergency. The February 2022 report from the Intergovernmental Panel on Climate Change emphasizes the widespread and increasing damage of climate change. This global devastation demands a more forceful stance from Emory. 
Emory student activists are stepping up to hold the university accountable on climate change. However, this global catastrophe is too complex and deeply rooted for students to make gains on our own. We need buy-in and collaboration from Emory's decision-makers.
It's time for President Fenves to follow through on his commitments. He should prioritize climate action to the Senate and the entire Emory community. He should uphold last semester's signed agreements, which include a specific plan for achieving net-zero emissions and transparent progress reporting. 
To meet these commitments, Emory must dedicate more resources and attention toward them. For instance, it should rehire a senior director of resilience and utility strategy. This position, eliminated last year, advanced the university's transition to renewable energy. On top of this, Emory should lobby our primary energy supplier, Georgia Power, to accelerate its transition to renewables. Emory should also integrate climate education into its curriculum. For instance, it could add a sustainability module to its required first-year course.
Other universities set examples to which Emory should aspire. Emory targets net-zero emissions by 2050, compared to 2037 for Agnes Scott College, 2035 for Cornell University, and 2025 for the University of Florida. Duke University has a team of eight staff members advancing its Climate Action Plan through energy management, compared to OSI's three full-time staff. Columbia University recently began operating the Columbia Climate School, and Stanford University is opening a new school focused on climate and sustainability this fall.
Emory's responsibility extends beyond campus to the climate-vulnerable state of Georgia. Georgia's population is increasingly at risk for wildfires, floods, and sea level rise. Atlanta is predicted to receive an influx of climate refugees by 2100, placing stress on its already-weak infrastructure. Emory's status as privileged, well-resourced institution in a climate-affected region compels it to take leadership on climate change. 
My fellow ECC leaders and I are setting a tone of urgency. We have waited far too long for Emory to rise to meet us. However, we still wish to foster a collaborative relationship in tackling this global threat. We challenge Emory to stay true to its word and join us in this critical fight.