White tablecloths. Crystal chandelier. A Danish sommelier. Hectares of lush vineyards.
These are sights I came across on one afternoon while in Italy this past summer. By the end of my visit to Guardastelle Vineyards in San Gimignano, Tuscany, I was filled with more than delicious red wine. I had lingering questions about maintaining operations in the face of the climate crisis.
Many of the phenomena that Guardastelle relayed during the tour of their vineyard are happening across the globe. Instances of disease are starting to decimate crops. Fast-rising temperatures cause earlier harvesting periods. In Europe, many grape wine farmers, or viticulturalists, cultivate dry-grown vines which means they rely mainly on rain to water their crops. Italy is only one country in the European Union suffering from a combination of chronic drought and increasing temperatures.
In response to these obstacles, vineyards are moving operations into higher elevations, amongst other adaptation techniques. Solutions call for viticulturalists to provide grapevines more shade, harvest at night, and maximize nutrient and water storage.
Other solutions target the production of wine, the concern of enologists. For example, enologists could use more alcohol-tolerant yeast strains, use ultrafiltration and osmosis to offset increasing sugar levels in grapes, and implement renewable energy to mitigate greenhouse gas (GHG) emissions.
On the consumer side, support of the shift to more climate-friendly practices includes buying domestically and urging wineries for investments in lighter packaging or shipping bulk wine. Additionally, encouraging your favorite vineyard to be Regenerative Organic Certified can highlight the growing fervor amongst consumers for more sustainable agricultural practices.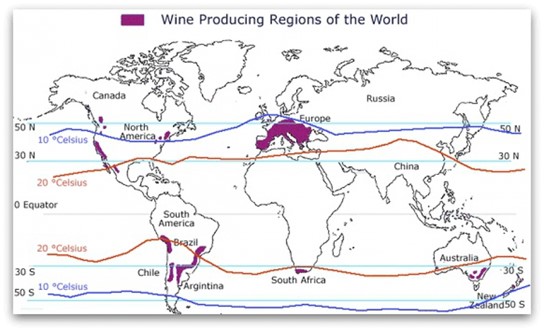 Of the 78 million metric tons of grapes grown annually, around 57% of them are intended for wine. In 2020, only 3 countries were responsible for the majority (53%) of grapes grown on vineyards: Spain, France, and Italy. Many countries like Argentina, China, South Africa, and Chile are increasingly acknowledged for their robust vineyards, and some for their novel practices to aid in climate mitigation.
The geographical region of the Mediterranean region has warm, dry summers and cool, wet winters. This climate is just the right temperature for the ideal growth pattern of the common grape wine Vitis vinifera. Under these conditions, the common grape wine will grow thick skin, small size, big seeds, and a lower number of grapes on the vine that together, produce higher quality wine. Not too hot and not too cold, the common wine grape's preference are finnicky indeed.
Luckily, the climate of the Mediterranean isn't exactly rare. It can be found between 30˚-50˚ latitude in the northern and southern hemisphere, meaning that viticulturalists within this latitudinal strip can have flourishing vineyards of Vitis vinifera.  
Viticulture is so climate sensitive that wine production has been used as a proxy to establish such changes. The terroir, or environmental factors where wine is made, are incredibly complex. Climate change has far-reaching impacts on nearly all of the components that terroir encompasses.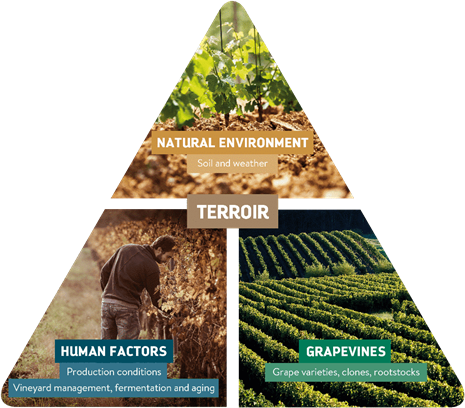 Excessive drought inhibits vine growth and lowers photosynthetic capabilities. It also cripples the fruit ripening process, leaving berries undesirable for fermentation and at risk of disease and bird predation.
Rising temperatures make vines mature faster, shortening both the growing period and harvesting days. Just a 1˚C increase is enough to illicit these changes.
Additionally, the structure of the soil that hosts grapevines can be damaged. Erosion of topsoil impacts key features like its moisture levels, acidity, and carbon and nutrient content.
Increasing the concentration of carbon dioxide in the atmosphere was found to positively influence grapevine growth, until nitrogen limitation occurred due to increasing temperatures. Higher levels of carbon dioxide also led to more oxidative damage within leaves, and degradation of the antioxidant system to resolve such damage. Together, these facts mean that increasing carbon dioxide concentration will ultimately destroy the common grapes' photosynthetic capabilities.
Direct climate impacts on water, soil, and vine maturation affect the productivity and quality of the wine produced. Wine connoisseurs and sommeliers can quite literally taste these differences.
All of the aforementioned changes in the terroir affect the taste-olfactory sensations of wine at a microscopic level. These include major characteristics like wine's sweetness, acidity, alcohol content, and tannin levels. Tannins are a naturally occurring compound found in the skin of grapes and impart a bitter, dry taste in the mouth.
Grapes respond to the aforementioned changes in terroir to produce more sugar and lower amounts of acid. When enologists put these sugary grapes through the fermentation process, it increases the amount of alcohol created.

The issue with a boozier wine is that consumers generally prefer a lower alcohol content, somewhere between 9-13% alcohol content. Also, the EU sets the limit for table wine alcohol content at 15.0% .  On top of the changes in alcohol content, the color potential of red wines decreases. 

Wine is changing, and so too is the approach to cultivating, producing, distributing, and tasting it.