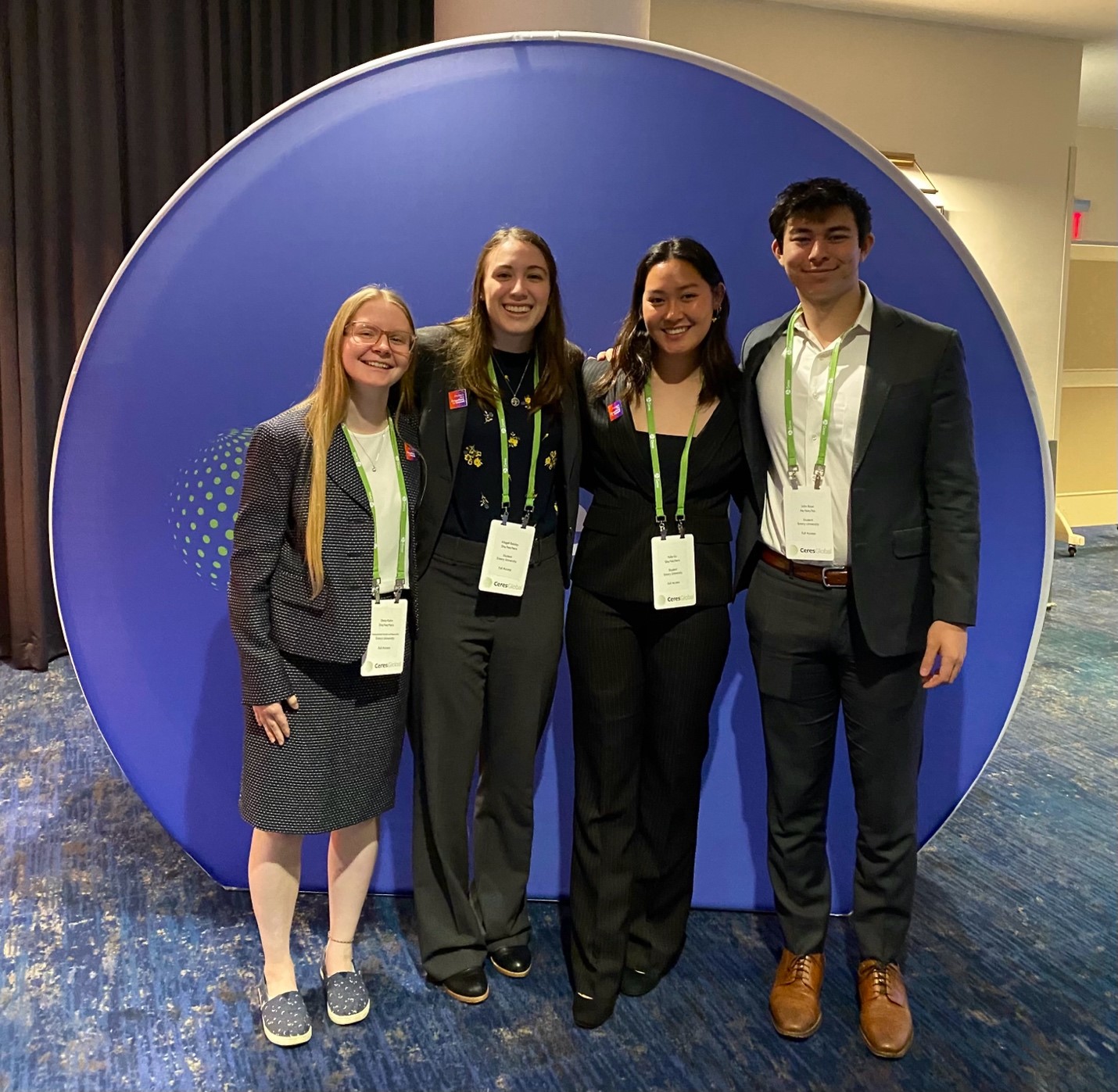 I've always had a bit of skepticism when it comes to sustainability and the private sector.
Greenwashing misleads the public by falsely promoting products and businesses as eco-friendly. Conversations on sustainability and environmental, social and governance goals (ESG) are increasingly polarized even as extreme climate emergencies become more frequent. And when headlines read,  "Just 100 companies responsible for 71% of global emissions", how can we possibly trust corporations to care about climate action when it seems like all they care about is their bottom line?
I know it can feel helpless––trust me, I've been there. Yet, attending the Ceres Global Conference in March gave me newfound hope about the future of sustainability in business.
The Ceres Global Conference is an annual event hosted in New York by Ceres, a nonprofit sustainability advocacy organization dedicated to advancing sustainability within the private sector. With two full days of speakers and panelists ranging from former Vice President Al Gore, Chief Executive Derrick Johnson of the National Association for the Advancement of Colored People (NAACP), and numerous other executives, directors, and leaders in climate justice and business spheres, Ceres Global proved to be a stage for broadcasting multitudes of perspectives from various sectors.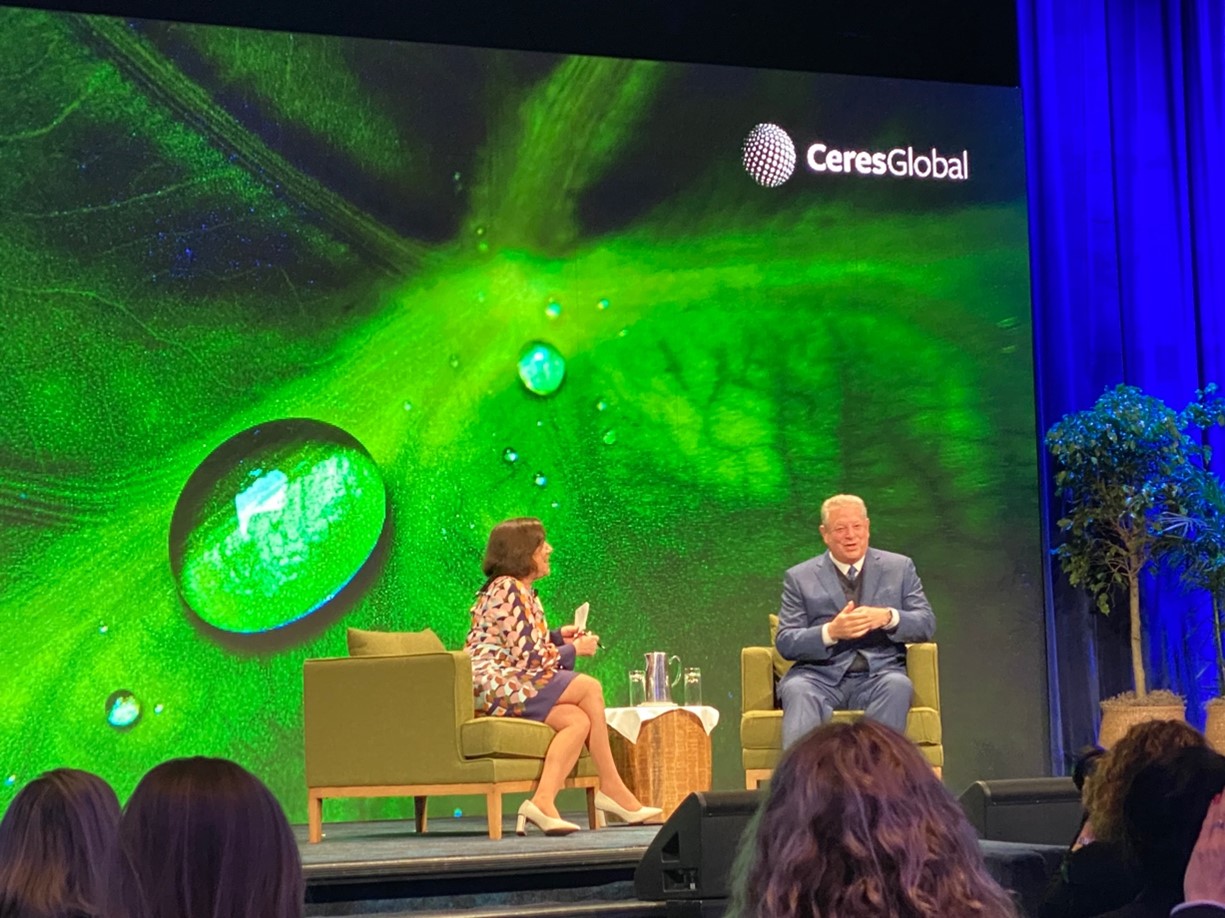 Most striking was the spotlight on people-based climate solutions engaging low-income "frontline" or marginalized communities and people of color. The private sector can play a key role by channeling investment, redistributing resources, and building diverse, inclusive economies. But that only happens when businesses tap community strengths and involve vulnerable groups as partners and beneficiaries.
Investors, consumers, employees, and the public are pushing companies to act more responsibly and protect the environment. But coming from someone planning a career in business, more needs to be done. If we continue with business as usual, the World Bank predicts climate change will force up to 130 million people into poverty over the next decade and 200 million people to migrate within the next 25 years.
"A just economy needs to be reflective of the communities it represents and serves," stated Johnson, the NAACP president, as he addressed the conference.
The discussions at the conference shed light on the vital role of frontline communities in powering the energy economy. As Michel Gelobter, executive director of the Yale Center for Environmental Justice put it, frontline communities are not just passive consumers, but "are the lifeblood of the energy economy." Yet, it is these same frontline communities that bear the brunt of energy-related challenges, often facing energy burden (energy costs relative to income) two to three times the national median. Change in the energy economy requires major transformations of infrastructure such as energy-efficient home upgrades and a faster transition to renewable energy.
In the same panel, Richard Frias, executive director of the Native American Finance Officers Association (NAFOA), discussed how early-stage investment into community projects is crucial for uplifting frontline communities. Much of this work is typically led by local organizations such as community development financial institutions (CDFIs). However, limited outreach and access to information leave many communities without the support to create programs eligible for federal aid.
Breaking the barriers of economic invisibility faced by frontline and Indigenous communities is essential for a just economic transition. While traditional investors view frontline communities as "high risk", and hesitate to invest, Kate Finn, director of First Peoples Worldwide, an organization dedicated to "working from a foundation of Indigenous values to achieve a sustainable future for all," spoke on this issue.
Finn noted that the designation of "high risk" is one of perspective; though seen as a high risk group, from 1997 to 2017, Native women-owned small businesses "generated $11 billion in revenue, and employed over 60,000 people." Frontline communities have the knowledge, research, and plans for just and equitable economic transitions with incredible economic potential, ready for investment.
Including Indigenous knowledge is not just about ticking a box; it's about fundamentally acknowledging and respecting their stewardship of the land. As we navigate the energy transition and prioritize climate action, the involvement of Indigenous communities becomes non-negotiable. Failure to include these perspectives could lead to even greater losses. Indigenous peoples make up a mere 5% of the global population, yet maintain 80% of the Earth's biodiversity. The economic cost of biodiversity loss would be devastating, to the tune of $2.7 trillion a year by 2030, reports the World Bank.
In that same vein, placing BIPOC leaders on corporate boards and prioritizing diversity, equity, and inclusion (DEI) initiatives are not just moral imperatives but are proven to bolster profits and strengthen companies, according to a report from McKinsey & Company.
The conversation on investment in frontline communities marks a shift in the way we must approach business, as well as climate. The Ceres Global Conference served as a powerful platform for voices demanding change and driving home the message that sustainability and climate action must be grounded in social justice. People-based solutions that uplift marginalized communities and prioritize Indigenous knowledge and stewardship hold the key to a sustainable future—one we must not just talk about, but actively work to build.