An Emory team of young climate activists is breaking new ground in the widening world of podcasting.
AmpliFIRE: Raising Voices Against Rising Temperatures, an Emory-based podcast launched last fall and now in its second season, is not your usual academic audio fare. Slow to join the podcast boom, higher education mainly offers audios that spotlight faculty and administration views but lack student standpoints. 
The AmpliFIRE podcast is penned, produced and presented by Emory graduates and students for their peers. Through climate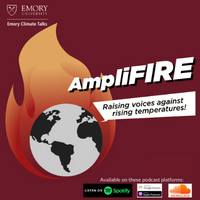 narratives and conversations, the podcasters emphasize multiple views, especially those of least-heard communities, demystify key issues, and boost action, not just awareness.
"We wanted to find something that set us apart from other climate podcasts," says Lauren Balotin (19C), a graduate student in environmental policy at the University of Michigan.
"We listened to other podcasts while thinking about our goals and found out a lot were done by researchers, experts and adults but not students," she says. "We wanted to fill that gap by helping to reach a younger generation."
Episodes linked to news events and trends make AmpliFIRE timely and relevant. Among the 2020 episodes, the first, posted just before the presidential election, focused on climate change and politics. Another highlighted connections between climate and Covid-19 as people waited out rising cases in the pandemic.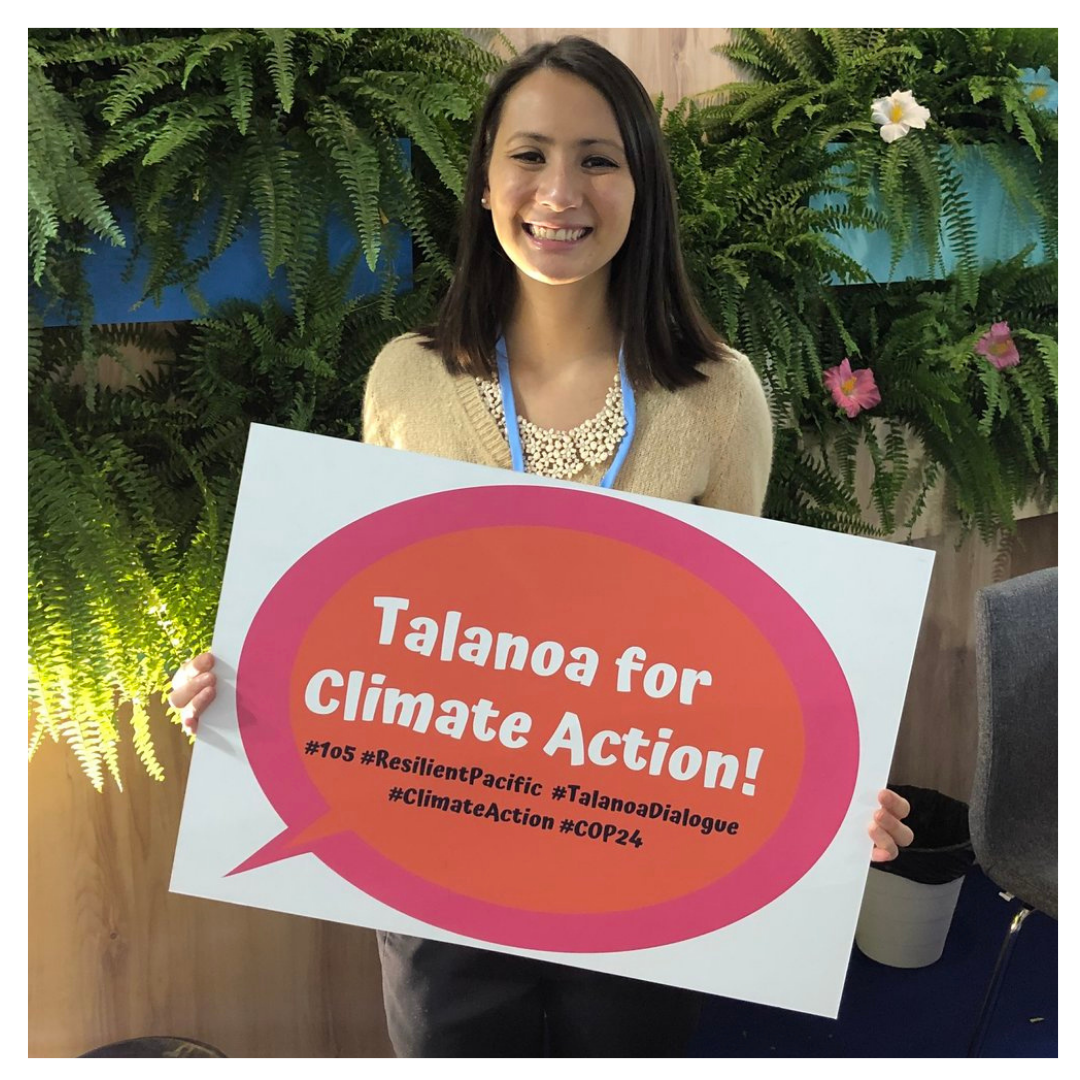 This year the podcast will be a particularly topical listen as the world gears up for crucial United Nations climate talks scheduled in Glasgow, Scotland in November. Known as COP26 or the 26th Conference of the Parties, the negotiations were canceled in 2020 because of the coronavirus pandemic. This year's meeting comes as time runs out to implement fully the landmark 2015 Paris Agreement to hold the rising global average temperature below 2 degrees C (3.6 degrees F) above pre-industrial levels.
"We wanted to make it timely because a lot of other podcasts aren't as focused on current events," says Balotin. "We wanted to build an audience by talking about information pertinent to their lives."
AmpliFIRE grew out of an Emory initiative to involve students in global efforts to mitigate the climate threat and promote workable solutions and adaptations. Dr. Eri Saikawa of the Department of Environmental Sciences created the program to teach climate basics and multimedia and sponsor student delegates to the yearly COP meetings. Eri and I teamed up to co-teach the preparatory course and co-lead the trips and observed students develop the multimodal skills that gave rise to AmpliFIRE.
In addition to Lauren Balotin, the podcast founders include other recent Emory graduates:
Halle Bradshaw (18C) holds a master's degree in environmental sciences from Emory and works as an engagement specialist with the American Red Cross in New York City;

Tyler Stern (16C), who created the podcast title and logo, is a user experience designer at Robots and Pencils, a digital innovation firm, and resides in Atlanta. He received a master's degree in human-computer interaction in 2019 from Carnegie Mellon University. In 2015, Tyler constructed the first Emory Climate Talks website that has now been relaunched in a new format;

Megan Withers (19C) is completing work on a master of science degree in marine ecosystem management at the University of St Andrews in Scotland;

Katelyn Boisvert (20C) is studying for a dual master's degree in business and environment and sustainability at the University of Michigan;

Shirley Ma(19C) lives in Boston;

Zola Berger-Schmitz (19C) recently completed a master's degree in environmental policy and regulation at the London School of Economics and Political Science. She has just joined the Science-Based Target Initiative at the World Resources Institute as a research analyst and resides in Los Angeles. Zola, an accomplished musician, created the podcast theme music by remixing an online track entitled "The Emergency."
The need to diversify voices on climate change, particularly among women, indigenous peoples, and marginalized communities, is a podcast priority. Global calls to ensure climate justice—protecting the most vulnerable, holding major emitters accountable, and securing safe water, air, power and housing for all—will be a centerpiece of COP 26.  
By stressing issues of environmental justice, the Emory group is in step with the international youth movement that emerged with Swedish climate campaigner Greta Thunberg. Several of the Emory activists were delegates to the UN talks in Poland in 2018 when Thunberg called for young people to step up and demand politicians act forcefully to reduce climate change.
The podcast space also will likely broaden audiences for the AmpliFIRE message. Podcasting has reached 57 percent of Americans over age 12 or about 160 million people, according to the 2021 Infinite Dial report from Edison Research, which measures podcast growth; in 2010, the percentage sat at 23 percent.
A jump in listeners among youth and young adults also is making podcast audiences, once predominantly white and male, more diverse. The Infinite Dial report says 43 percent of monthly podcast listeners are now non-white, exceeding 40 percent for the U.S. population as a whole.
The podcast has arrived at an opportune moment to energize young people and galvanize a variety of voices on climate change. Tune in this year to AmpliFIRE and prepare for the climate future.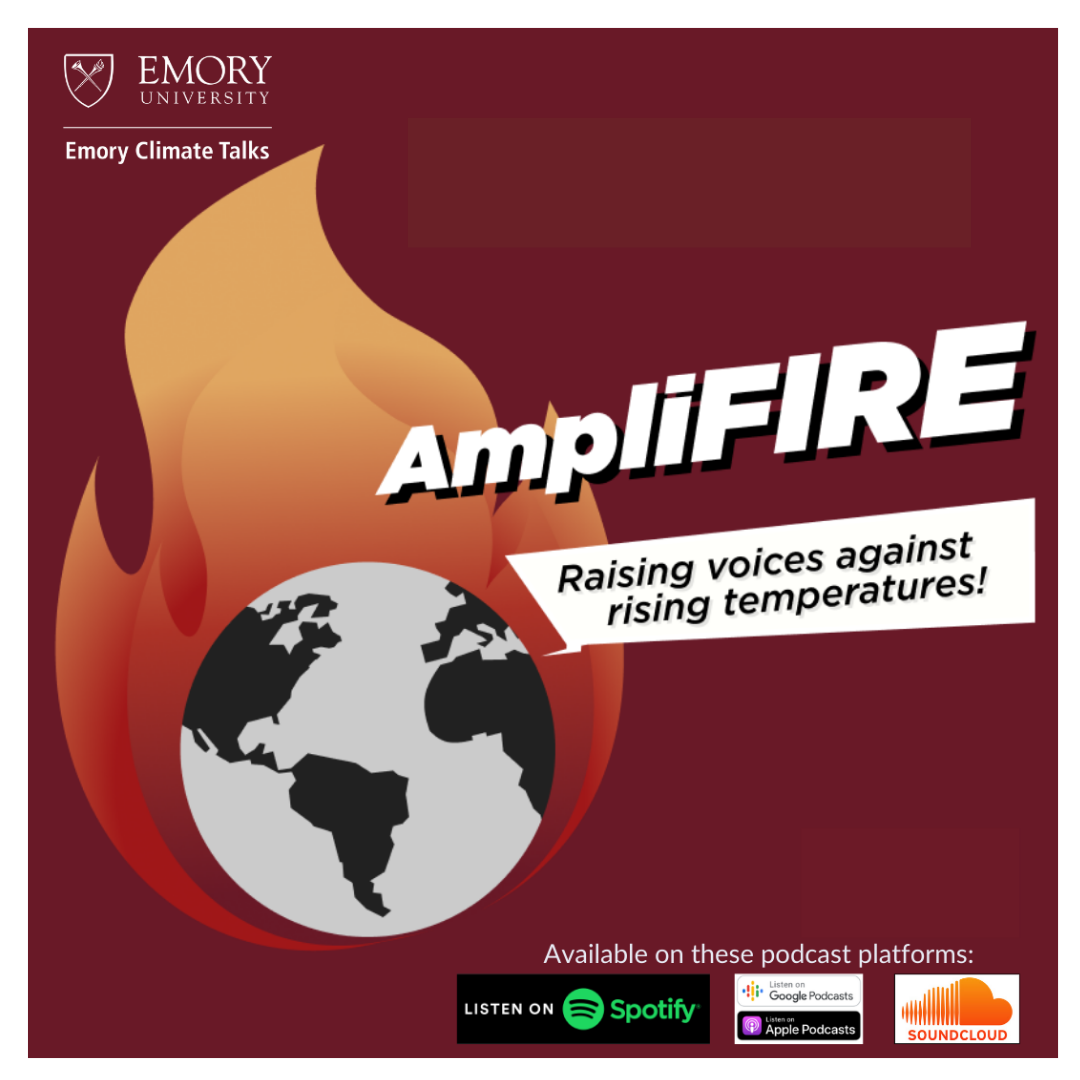 Subscribe to AmpliFIRE wherever you get your podcasts:
Soundcloud
Apple
Spotify
Google Podcast
Sheila Tefft is a Senior Lecturer Emerita in the Emory College of Arts & Sciences, Department of English