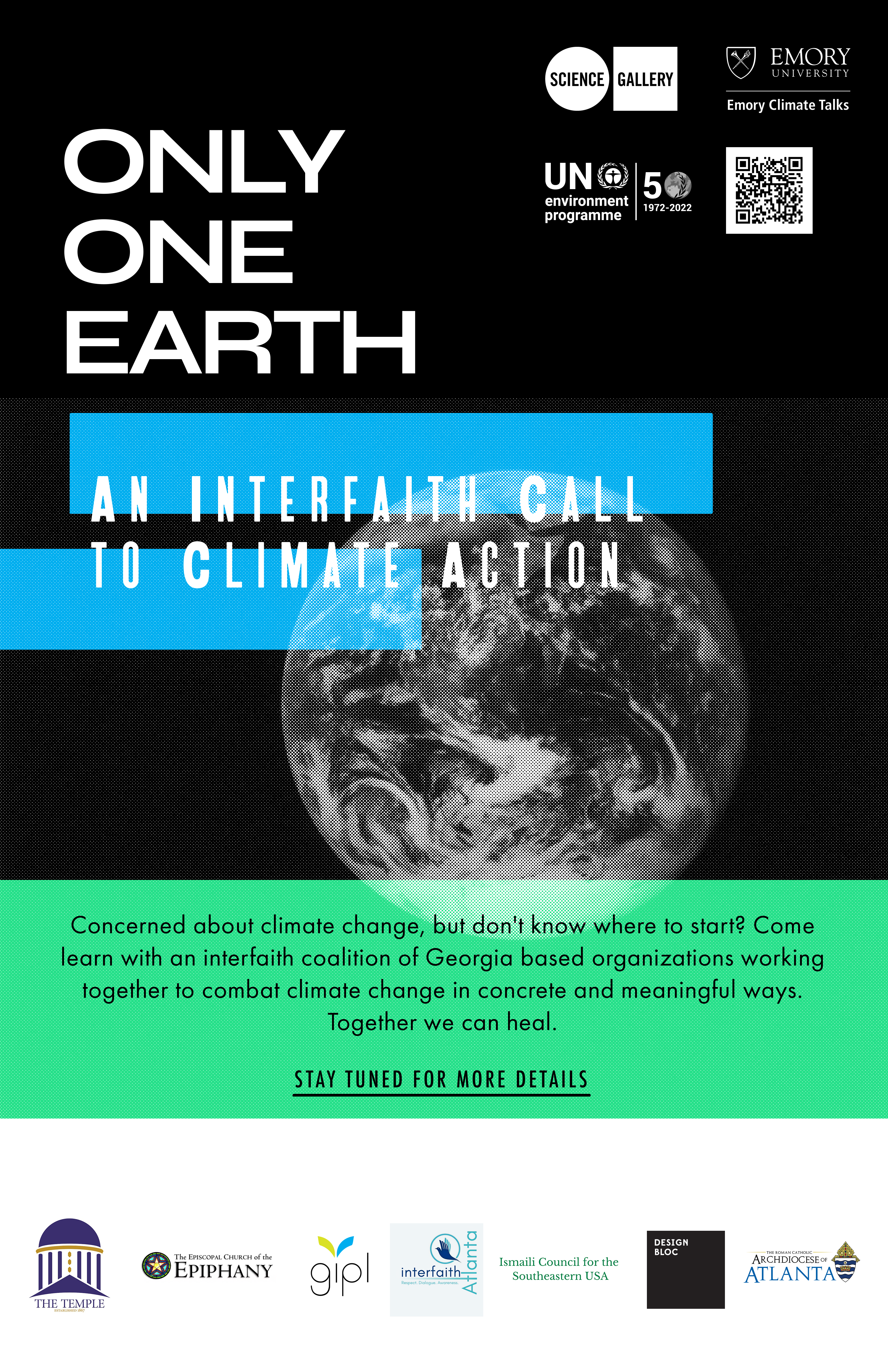 Climate change is a major threat to the Earth and its habitants. #OnlyOneEarth is a campaign for World Environment Day 2022 and calls for collective, transformative action to celebrate, protect, and restore our Earth. 
This year, the United Nations has invited communities across the globe to consider what role they can play in addressing the climate crisis. Several faith leaders from around Atlanta, partnering with key civil society organizations and academic institutions in the Atlanta community have come together to be a part of the Only One Earth initiative. We aim to think critically about the issues of climate change particular to our geographic location and find ways to support our constituencies to action around such issues. Building trust across difference is a necessary work in overcoming the divisiveness of our current times. In different ways and to different degrees we all are facing the ramifications of this planetary emergency and we must find new ways to work together and to live together. 
Join us in learning what can be done and help us establish the spirit and the social bonds necessary to accompany one another in and through the momentous changes we are facing.
Co-Chairs:
Rev. Nicole Lambelet, Associate Priest for Family Ministry and Outreach, Episcopal Church of the Epiphany
Dr. Behnoosh Momin, Health Scientist, Shia Ismaili Muslim 
Committee Members:
Dr. Eri Saikawa, Associate Professor and Director of Graduate Studies, Director of Emory Climate Talks, Emory University
Leah Thomas, Graduate Programs Academic Service Coordinator, Emory University Department of Environmental Sciences
Dr. Dabney White Dixon, Professor and STEM Director at Georgia State University, Georgia Interfaith Power & Light Board Member
Floyd Hall, Director, Science Gallery Atlanta
Rabbi Ellen Nemhauser, President, Interfaith Atlanta
Hannah Shultz, Program Coordinator, Georgia Interfaith Power and Light
Rabbi Lydia Medwin, The Temple
Kat Doyle, Director of Justice & Peace Ministries at Archdiocese of Atlanta
Sunday, September 25th from 3-5pm
Georgia Interfaith Power and Light (GIPL) is hosting an interfaith river clean-up in celebration of World Rivers Day on September 25th from 3-5pm. World Rivers Day highlights the many values of our rivers, strives to increase public awareness, and encourages the improved stewardship of all rivers around the world. Join us in helping to clean-up a section of the river at Clyde Shepherd Nature Preserve and Mason Mill park. The clean-up at Clyde Shepherd is specifically for youth and young adults (ages 12-25) who want to connect with other interfaith youth. GIPL and Interfaith Atlanta will provide adult supervision.* We will gather at the pavilion at the entrance to Clyde Shepherd (2580 Pine Bluff Dr, Decatur, GA 30033) at 3pm. Children supervised by adults and adults 25+ are invited to participate in the clean-up at Mason Mill. We will gather near the Old Decatur Waterworks (1400 McConnell Dr, Decatur, GA 30033) at 3pm. GIPL will have a limited supply of work gloves and tools, but participants are encouraged to bring their own if possible. If you have any questions about either clean-up, please contact GIPL Program Coordinator, Hannah Shultz, at hannah@gipl.org. 
*There are a limited number of spots for this clean-up, so please register as soon as possible and let us know if you register but can no longer make it.
Registration forms: 
Clyde Shepherd Registration form: https://secure.everyaction.com/-Rl4fhanqku7fbHhAO9gGA2
Mason Mill Registration form: https://secure.everyaction.com/AG_03PFB1kaZx8Hj4z_sNg2
PAST EVENTS
Sun, August 14, 2022
2:00 PM – 5:00 PM EDT
Science Gallery Atlanta
Pratt-Pullman Yard
Rogers Street Northeast
Atlanta, GA 30317
"Finding My Eco-Power" is a family friendly interactive showcase to better understand our individual impacts on the environment.
A POWERFUL youth and family friendly interactive eco-event, appropriate for people of all ages, that asks "How much do you know about your household environmental habits?" This self-paced, interactive look at personal environmental actions shows how changing simple behaviors and making smart eco-choices have the POWER to improve our environment rather than damaging our planet.
Co-hosted by Interfaith Atlanta, Roman Catholic Archdiocese of Atlanta and Interfaith Children's Movement.

Sunday, June 19
2:00 PM - 4:00 PM EDT

Science Gallery Atlanta
Pratt-Pullman Yard
Rogers Street Northeast
Atlanta, GA 30317
Climate Change Design Thinking Workshop
Science Gallery Atlanta and Georgia Tech's Design Bloc invite you to join our design thinking workshop!
Designed specifically for 15 to 25 year-olds, Atlanta residents, and their families, this workshop focuses on providing local solutions to the issues surrounding climate change. This educational experience leverages a design thinking (DT) approach to engage and collaborate with the participants.